In 1919, Wisconsin became the first state to ratify the 19th Amendment, giving women the right to vote. But a century later, women across Jefferson County still make up a minority of elected officials.
Currently sitting on the 30-member Jefferson County Board of Supervisors are four women — just 13 percent, according to unpublished data from the Wisconsin Women's Council. That's half of what it was in 2007 when there were eight women on the board.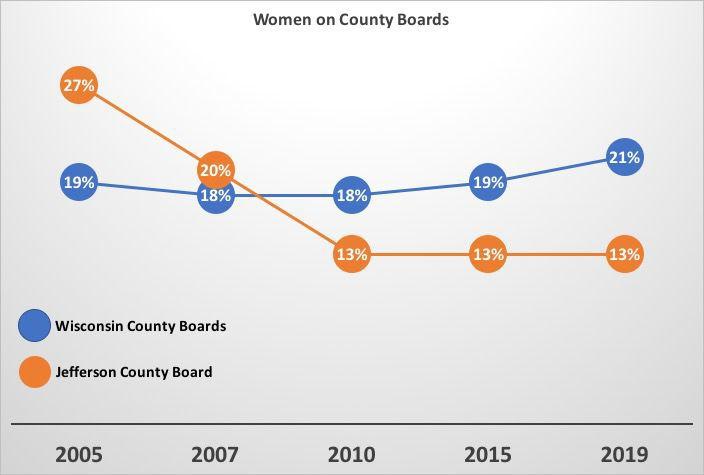 In 2015 — the last year for which data is available — 16 percent of the county's 36 village trustees were women. That's a 19-percent drop from the number of women on village boards in 2010.
And right now, in the six city and common councils in Jefferson County, women make up 24 percent of those legislative bodies.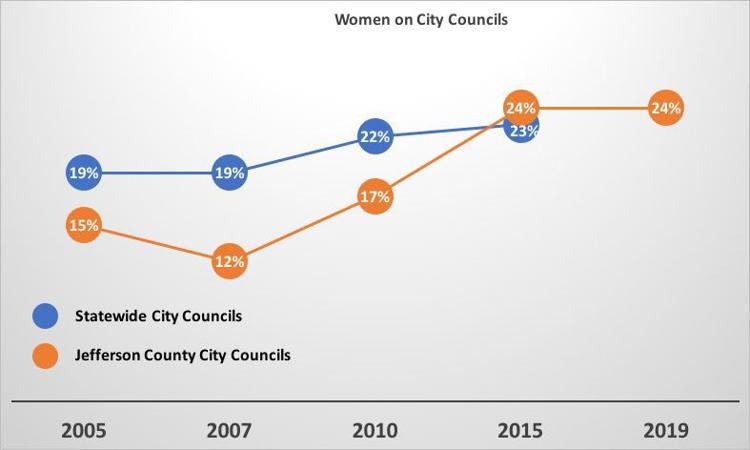 The bright spot for female representation in Jefferson County governments is in mayoral offices.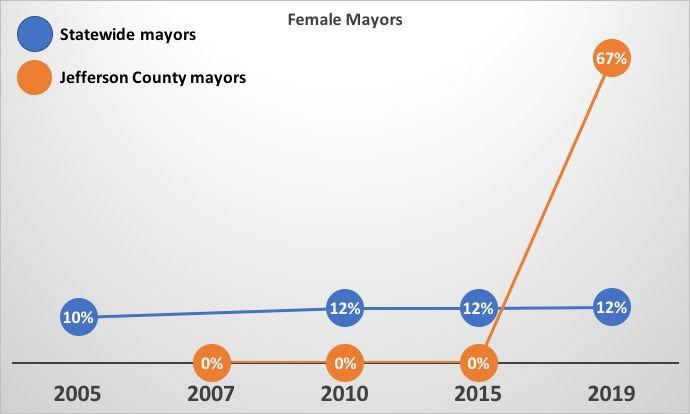 Three Jefferson County municipalities have a mayor, and two of those positions are held by women. This is very unusual, according to Wisconsin Women's Council Executive Director Christine Lidbury, because there are only 22 female mayors in the entire state.
If there isn't a diverse group of people in elected office, decisions are made fone rom one perspective, according to Wisconsin League of Women Voters Executive Team member — and Whitewater resident — Ellen Penwell.
"I think whatever laws and decisions are made at any level of government would have more legitimacy if the people making them are representative of society," Penwell said. "I think that's a very important point, that our lawmakers look like the electorate. Issues can be debated from a number of perspectives, and having voices at the table is important."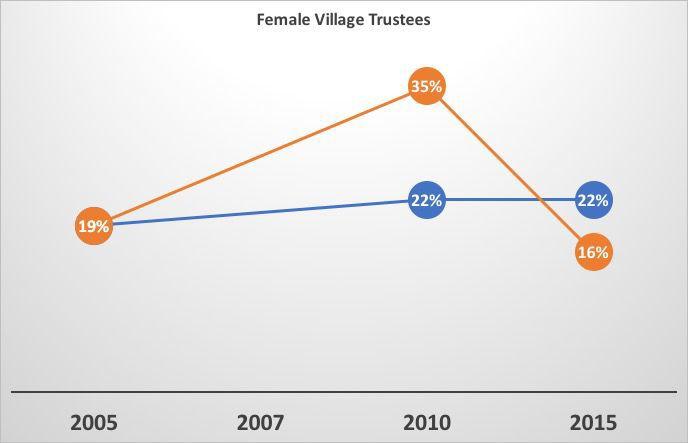 The stop-and-start nature of female engagement with local politics reflects what is seen at state and national levels, according to University of Wisconsin-Whitewater political science Professor Larry Anderson.
"I think seeing the success has a demonstration effect, so a self-fulfilling negative prophecy becomes a positive prophecy," Anderson said. "Seeing successes yields more successes. It's this thing that can all sort of work together to create better representation."
Those successes that might be pushing more women to run for office here in Jefferson County have been occurring in Madison and Washington D.C. Both the Wisconsin Legislature and U.S. Congress have more women in office than ever before.
"Increasingly, I think now especially, we're seeing women come on and you see it on the national stage, right?" Lidbury said. "You wouldn't have seen a woman running for national office (many years ago). And I think once you see women in those positions, running for president, running for governor, sitting in some of these higher offices, I think it really inspires other women to go out as well."
With a number of women currently running for president and holding national offices, Lidbury said, she thinks this has a trickle-down effect.
"Once we have one woman on a board or a city council or county board, I think it inspires other women, especially those in leadership," Lidbury said.
But it won't happen all at once, according to Erin Forrest, executive director of Emerge Wisconsin, an organization that trains women to run for office.
"You're gonna have fits and starts," Forrest, who has held elected office in Waterloo, said. "There's not a single way that society has progressed that happens in a straight line."
While high-profile women running for high-profile office help get the ball rolling, the biggest hurdle is convincing women to run in the first place. Women are more likely than men to consider themselves unqualified to hold elected office, according to a 2013 study by American University.
This means it takes a lot of effort to convince a woman she can run and win — and even then, research shows, that effort usually has to come from a trusted and respected person.
Forrest has made a career out of encouraging women to run for office. When she first was urged to seek a seat on the Waterloo Common Council, her knee-jerk reaction was "Oh, you've got to be kidding."
She said that reaction is representative of many women who are asked to run. So her biggest challenge is convincing women they are qualified and they can do the job.
"(Women) also tend to dismiss people suggesting that we run," Forrest said. "Even when we are asked, we hear it differently. And who is asking matters. The people who asked me were credible and knowledgeable and I believed they knew what they were talking about. I didn't know until much later how representative my experience was."
The fear of being unqualified isn't the only obstacle for convincing women to run, according to Forrest. Running for office is an incredibly strange experience and it takes some convincing to get women to upend their lives in that way.
"It can be uncomfortable and definitely scary," Forrest said. "(You're) putting yourself out there in a way people never do. Only 1 percent of the population runs for office, for women it's less. It's an experience most people don't have."
Emily McFarland didn't know she was Watertown's first female mayor until a headline in the Watertown Daily Times appeared the day after she was elected. That was on purpose: She wanted her campaign to be about her ideas and not her gender.
But that didn't stop it from coming up, again and again, while she campaigned.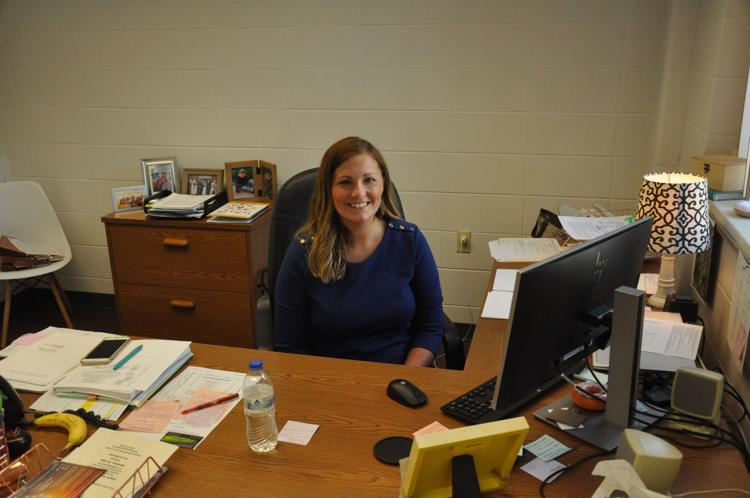 "I wanted people during the campaign to believe in me and my ideas and my capacity," McFarland, 34, said. "And so I didn't focus on my gender at all. At least I didn't. I mean, people did."
That focus on her gender came out in ways that might sound familiar to women in the workplace around the county.
"There were definitely issues that would come up that wouldn't come up if I wasn't a woman," McFarland said. "Like one of the things that struck me the most during the campaign process, there were people alleging in a public forum that my sons would be neglected."
While many women who run for office feel like they aren't qualified, McFarland's resume seems perfect for an elected official. However, she just never saw herself running for office.
McFarland has a bachelor's degree in political science from Carthage College and a master's in public administration from the University of Wisconsin-Oshkosh. She worked for Congressman Paul Ryan as a constituent services representative and in the administration of Green Lake County. She was an alderperson in Watertown and worked in multiple departments in state government.
She always knew she wanted a career in public service, but elected office came as a surprise.
"I tell people all the time, I was completely surprised," McFarland said. "I hate campaigning. I don't like the political aspect of all of that. But then when you look back, I really shouldn't be, you know, like lining up these cards. This shouldn't be a surprise to me and it wasn't to anyone else in my life."
It hasn't always been an easy path for McFarland, though. She said she's faced sexual harassment and has been dismissed as a woman, but she believes she's made both tangible and intangible improvements to her community.
Intangibly, as a woman and part of a new generation of leadership, the mayor said, she's shown how open-minded Watertown can be.
"I think there are benefits to me being in this position, and for me, it's twofold and I called it the double whammy during the campaign," McFarland said. "I knew our community could get over me being a female; I felt pretty good about that. I also knew they could get over my age. I didn't know if we'd be able to get past both together."
Tangibly, McFarland said, she can bring major change to Watertown and its outlook toward the future.
"Someone recently described our community as a sleepy community. We aren't, you know; we are on the precipice of major change and we're ready. And so I think proving that to ourselves was a benefit that came out of me," McFarland said. "I bring a different lens to topics. Let's create new things, have new programs. Let's figure out a way to fund that. I mean, let's think about things in a different way."
A few miles down the road from McFarland's office, Amy Rinard represents Ixonia as its county supervisor.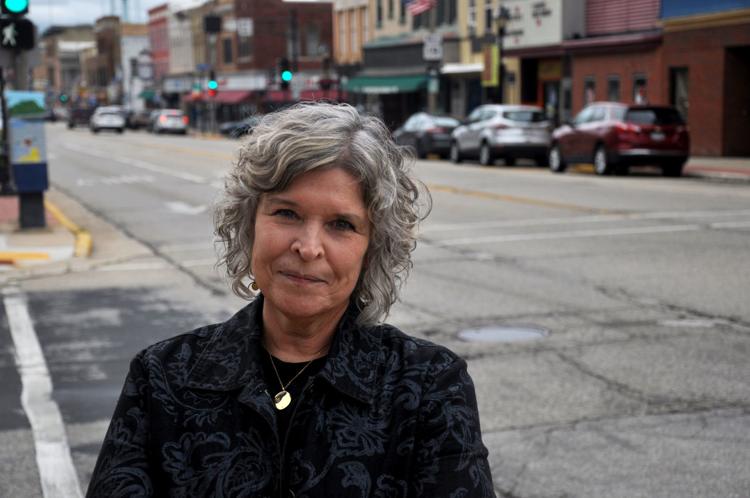 Rinard, the longest-tenured woman on the Jefferson County Board of Supervisors, has spent her entire professional career in environments dominated by men. For 30 years, she worked as a reporter for the Milwaukee Journal-Sentinel, and 10 of those years were in the Madison bureau as a statehouse reporter.
After decades of efforts by media organizations to increase gender and racial diversity, the percentage of women working in newsrooms in 2019 is just over 41 percent. But, in the 1980s and 1990s when Rinard was walking the halls of the State Capitol with notebook in hand, there would not have been many women.
Despite being one of the few women in her newsroom back then and on the county board today, Rinard said she just put her head down and did her job.
"You sort of just push through it. You just showed up, did your thing, did your best," Rinard said. "I think it's sort of like being on the county board. The longer you're around, the more people know you, they know what you can do and they come to respect you for your work. And so I think that that's probably the way most women get ahead in those environments: Just through sticking it out, you know, not being intimidated, doing your best."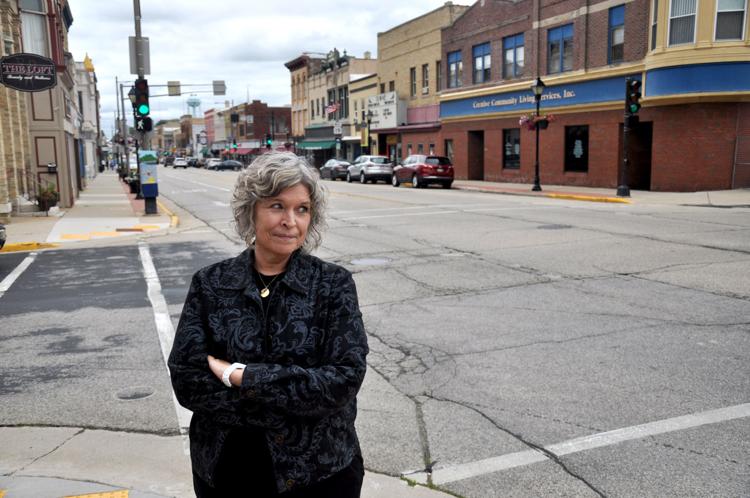 Rinard said there have been some moments during her county supervisor tenure when she's been discouraged. There have been times she felt like she couldn't get anywhere, times she felt she wasn't being heard or times the entrenched dogmas of county government felt too difficult to overcome.
"I was on a committee for many years," Rinard said. "But it took me two years to be able to finish a sentence at the committee level."
Rinard has been on the county board for nearly a decade, so she's built up enough respect and clout to get things done — she's currently working to expand internet services in Ixonia. But she said having more voices at the table means more issues get tackled.
"And that's the benefit of having women at the table, having younger people serve on the board, having a whole diverse group of people getting involved in county board, because everybody has their own perspective and everybody brings something different to the table," Rinard said.
On the opposite side of the county, Brienne Diebolt-Brown sits in the Whitewater Common Council chambers. She calls herself a "Jill of all trades," and it's accurate — she's worked as a journalist, an epidemiologist, a researcher, a yoga instructor, a community activist and council member.
When Diebolt-Brown first was elected, she said, she found a council out of step with the needs of the community and out of step with the policies that can help a community thrive in the 21st century.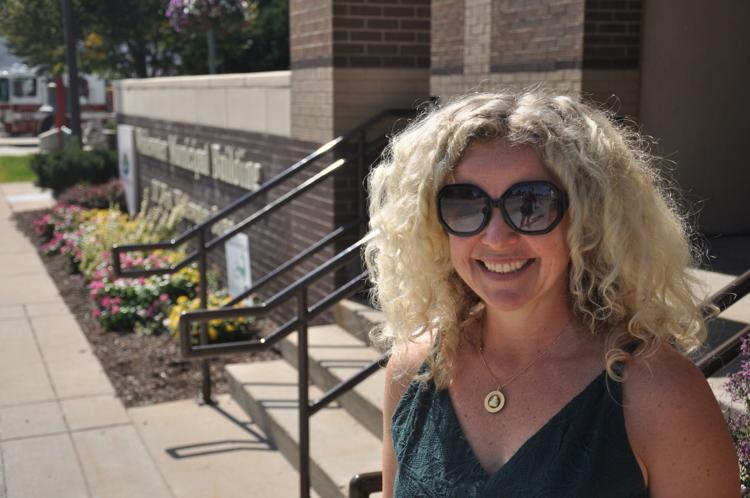 "If you look at the city council over a period of time, all their kids have grown up," Diebolt-Brown said. "They all have grandchildren. Their grandchildren don't live here. They don't realize the town has changed. They don't realize what families need because they don't hang out with families."
Her background, as a journalist and a scientist, means she tackles problems with precision and research, while others can be more casual, she said.
"If I'm going to assert an opinion, I want to make sure that I've had my research to back it up," Diebolt-Brown said. "Whereas, I think guys feel very comfortable asserting their opinions without having done any research at all. They definitely shoot from the hip, and that's fine. But you know, having been a journalist and having been a scientist, I can tell when somebody's shooting from the hip and they're full of bull."
Diebolt-Brown said she's struggled to change the mindset of the common council. She said she's had to convince people it's okay to invest in nice things for the community, it's okay to spend some money if it's spent in a smart way that makes Whitewater appealing for students, families, young professionals and retired people.
"I think there's been a slight change in tone, saving money was more important before, it was 'we got to save money. We've got to save money, we've got to save money,'" Diebolt-Brown said. "You have to borrow. ... You do have to prioritize. And we just went through that process of like prioritizing out of the hundred projects that need to get done in this town, we had to prioritize our top 10."
Diebolt-Brown is the daughter of two service members whom she called huge role models — especially her mom, who outranked her fighter pilot father. Her upbringing in a military household means she doesn't take a lot of crap, she said, but combining that with her experience as a journalist and scientist allows her to succeed in her role as a council member.
"I think curiosity helps. I think just being somebody who is willing to talk to people helps and willing to listen, and I think being a woman is one of those things that makes that work," she said.
Government all over the United States, Wisconsin and Jefferson County has more work to do to get to equity in positions of authority, according to Lidbury, the Wisconsin Women's Council director.
"Look, there's still people making firsts and there are still firsts to come," Lidbury said. "There's still work to be done to advance women and the numbers need to move to get closer to parity."
But Lidbury is optimistic about the future because she believes younger generations — and especially women in those generations — feel they're entitled to a seat at the table.
"I think getting young people involved is really important," Lidbury said. "When you're young, you have no fear. You think you could do anything and you're not checking yourself at this point. I think we raise girls differently now. You're not supposed to be small, quiet and invisible; girls now, it's, like, loud and proud."
Nothing happens in a straight line, and for Rinard, women just need to keep pushing forward.
"It's been a long, hard slog, I suppose," Rinard said. "When we stop celebrating the firsts, that'll be a sign that we just expect these things to happen and it's not so extraordinary anymore. I hope that happens, but still, for a woman to be elected mayor of Watertown, that's a big deal."
That "big-deal" mayor understands she's a role model for the young people in her community and said she was profoundly impacted by one high school student who approached her and volunteered with her campaign.
"To have a young woman want to participate and be inspired by you is inspiring," McFarland said. "I may lose this election, but I remember saying to her after learning about her, 'you are going to profoundly affect whatever role you're in.' And my whole purpose in running for election right now may be so that I'm having this conversation with you. And so that you are the person who changes your community."
Forrest, the Emerge Wisconsin director, said women can't stop now.
"If we keep going, we'll continue to make progress. The studies say we're 100-150 years away from parity; we need intervention," Forrest said.
Corporate boards are more productive when women are on them, governments make better decisions when women hold office and work gets done on a variety of issues when women are at the table, Forrest said. So that means, according to Forrest, people need to keep pushing for more and more representation.
"The number-one enemy of good decisions is a lack of perspective. It really is about seeing things from a different angle," Forrest said. "What the data shows is that women as legislators are more productive, they bring more money home to districts and then there's the gender salient issues. Health, childcare, education and environment ... women get more done on those issues."
Forrest said if there's someone who seems like she would do a good job, she should be encouraged to take the leap.
"Women in local elected office is incredibly gratifying," Forrest said. " Encourage people who you think would be good to run."