At 9:25 p.m. Tuesday, a tornado developed near Fort Atkinson. Seventeen minutes later, a second twister formed near Rome.
The severe storm, which damaged trees and homes around the area, was determined by the National Weather Service (NWS) to have spawned two tornadoes in Jefferson County.
The Rome tornado was the more powerful of the two. It began around the intersection of Froelich Road and Pioneer Drive, according to NWS. This tornado was classified as an EF1 with its estimated peak winds of 100 mph.
The Fort Atkinson tornado — the weaker one — began near County Highway A and then moved southeast through the south side of Fort Atkinson, according to NWS. This tornado was classified as an EF0 with winds estimated to have peaked at 80 mph.
EF1 and EF0 tornadoes are the most common in Wisconsin, according to NWS meteorologist J.J. Wood. He said these classifications are made after the fact when crews can survey the damage and estimate the windspeed.
"A lot of the damage that's looked at is the kind of tree damage that happens: Are branches snapped or are trees uprooted or totally wiped out?" Wood said. "Those are the things we look for to determine how strong the winds might have been."
While Wood said these two classifications are on the weaker side of these types of weather events, there still is a risk when winds get this high.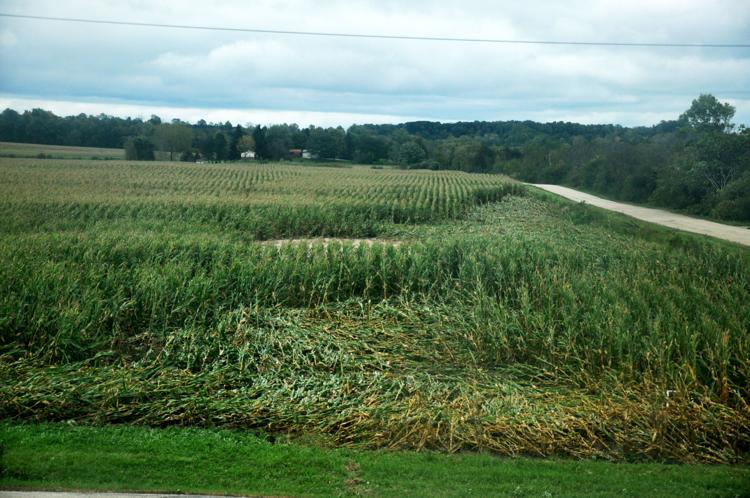 "We classify EF0 and EF1 as weak tornadoes; obviously, a weak tornado is still dangerous, but it was a weak tornado," Wood said.
Ray McKnight lives near the intersection where the Rome tornado formed. He said his family started moving to the basement as soon as his wife heard the siren. But before the McKnights even could get down the stairs, the funnel was over the house, he said.
"The house started to rock; it felt like the house was coming off the foundation," McKnight said. "It happened so fast, but I could feel the pressure in my ears, I could feel it in my sinuses, I could feel it in my chest even."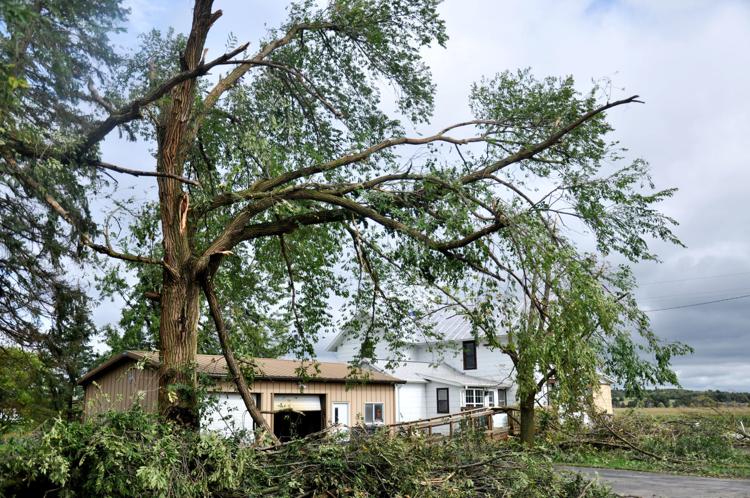 McKnight's home and property sustained a lot of damage from the storm. Almost every tree had at least some limb damage, there was roof damage, and the front porch was ripped off the house, he said.
"The debris was flying by so fast," McKnight said. "'We're done' — that's what I was thinking. This was the worst storm I've seen."
From an upstairs window in McKnight's home, the path of the tornado can be seen straight through a cornfield across the road. Looking back toward his house, the destruction left by even a "weak" tornado is impressive.
Russell Houk lives a few miles away from McKnight. His property lost nine to 10 trees to the storm and a shed in the back was destroyed.
Houk was at home when the storm passed. Tuesday night was the 12th birthday of his dog — ironically named Storm — when the pressure in the air changed and it got really loud outside, Houk said.
All of a sudden, Houk heard what sounded like a loud explosion outside that he thought was a lightning strike. Turns out, a large cedar tree in his front yard had snapped in half.
Then, about six seconds later, it was all over and then all Houk could hear was the sound of the pouring rain, he said.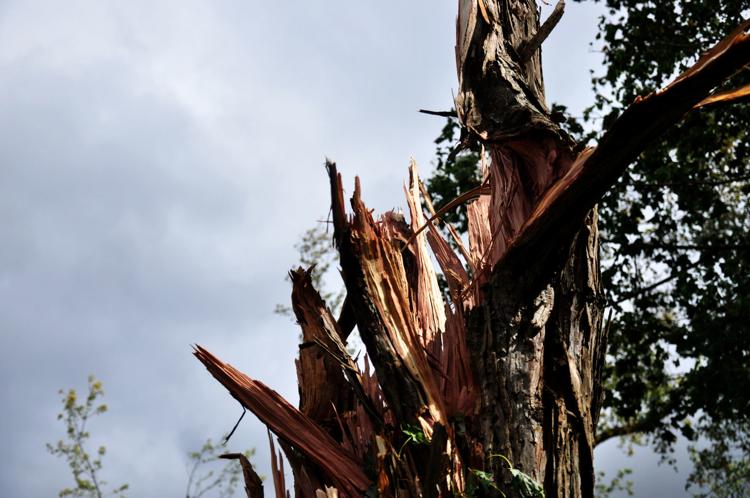 "I saw the severe storm warning but didn't realize it was that bad," Houk said. "At this place, this was the worst storm I've ever had."
The Rome tornado lasted for about 14 minutes until 9:56 p.m., according to NWS. During that time, the storm traveled 13 miles from Rome into Waukesha County.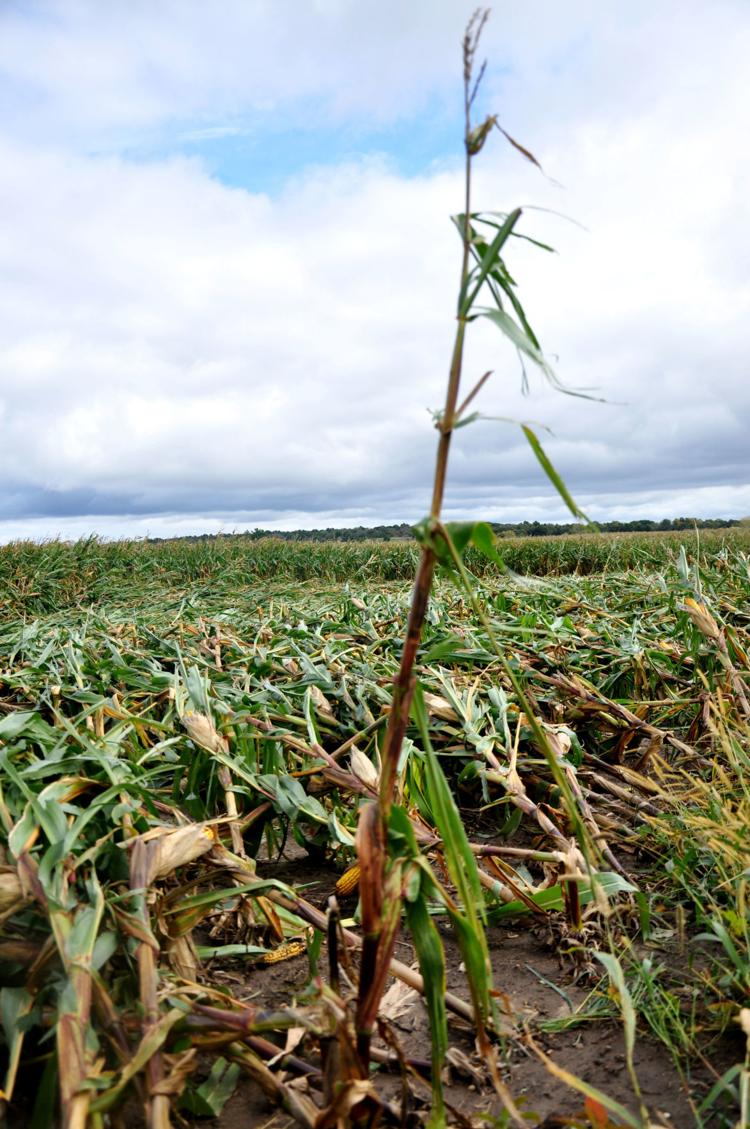 In Fort Atkinson, the tornado lasted about nine minutes as it traveled just over 7.23 miles, according to NWS.
Wood said the length of the two tornadoes is typical for how powerful they were.
"Generally speaking, with the type of weather systems that moved through, they tend to be short-lived and on the weaker side," Wood said.
Along with the powerful rotating winds, the storm dumped a lot of water on the area. Most of the county received more than two inches of rain, with Fort Atkinson getting 3.74 inches, according to NWS.
While the Rock River hasn't yet breached walls or streets, the City of Jefferson issued a warning Wednesday, predicting moderate flooding over the weekend.
On Wednesday, people in Rome and Fort Atkinson were working to get debris cleaned up and repairs to homes, sheds and barns started.
McKnight was waiting for a tree service to stop by his house to get most of the limbs off his yard. Houk already had the cedar that'd exploded chopped up into logs and piled in the bed of a pickup.
In Fort Atkinson, Kevin Prill, the business manager at Beaver Tree Service, said he had been out working with homeowners since early Wednesday.
Prill said it was a long day, but because the worst of the storm was concentrated to the south end of town, it wasn't the worst he's ever seen.
"As far as the storm, in comparison to others a few years back, (it was) probably not as severe because it was very localized," Prill said.
Prill said the crews were able to get the damage cleared quickly because they know what they're doing when it comes to this type of weather.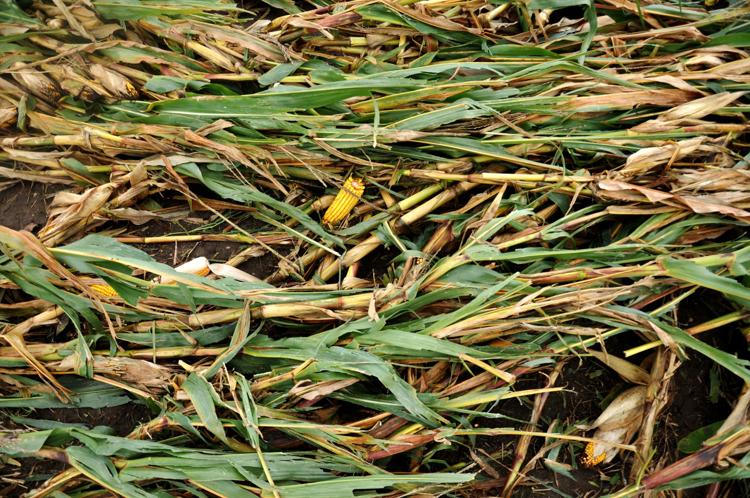 "Both bad areas were within less than a city block," Prill said, referring to Endl Boulevard and Highland Avenue. "Other than that, it was a minor storm. Some of the other ones we've dealt with in the past were more widespread and far-reaching. We've been doing this for over 25 years; we've dealt with a lot of storms. It all depends on what Mother Nature is going to throw at you. We've got the equipment, knowledge and know-how to get it done."
Fort Atkinson Fire Department Chief Daryl Rausch said the damage count from Wednesday morning had stayed mostly the same. That count included minor damage to six homes and moderate damage to the roofing, siding and windows of two homes, as well as damage to 10 cars and hundreds of trees around the area.
Rausch said the city was able to handle the powerful storm well.
"The overall response by all emergency services was on track with what we were dealing with," Rausch said. "Most of the major cleanup is already done."
Jefferson County Emergency Management Director Donna Haugom said she's thankful the tornadoes wasn't as bad as it could've been.
"It's always scary when you hear that word tornado. Your wish is nobody gets injured. I'm very thankful we didn't have any injuries or have to evacuate any homes," Haugom said. "The people are so resilient and it's quite devastating and we're always here to help in any way we can."
While some people might not think it's that big of a deal when the warning comes over their TV or phone, Wood said, the NWS isssues the warnings for a reason and urged people to take them seriously.
"When we issue tornado warnings, we just reiterate that while tornadoes are rare in fall, winter and spring, they can happen," Wood said. "If you get the emergency alert on your phone, take it seriously, take cover and stay safe."