By Henry Redman hredman@dailyunion.com​ ​ ​
Good Morning,
It's Wednesday, Jan. 22, 2020 and here's what you need to know to start your day in Jefferson County. 
1. There have been 104 illnesses related to vaping in Wisconsin, to date. Now, doctors and Governor Tony Evers are stepping up the effort to curb teen vaping. 
On Sunday, Evers outlined his proposals for bills that would ban vaping and vapor products on K-12 campuses in the state and expand the definition of public health emergencies. Another bill would fund a public health campaign to address youth vaping in the state and a fourth proposal would expand the enforcement capacity of the Departments of Revenue and Agriculture, Trade, and Consumer Protection to prevent vaping products from being sold to minors.
For more on the anti-vaping efforts and how it relates to Jefferson County, read here: 
2. Police are looking for a suspect in a hit-and-run accident involving a teenager on a bike in Watertown last Thursday. 
A 13-year-old cyclist was hit by a car and sustained minor injuries, according to the Watertown Police Department. 
For more on the incident, read here: 
3. Just days after trails opened, Jefferson County snowmobile trails will close 6 a.m. Wednesday and remain closed until further notice. 
For more information, contact the 24-hour snowmobile hotline at (920) 699-7669.
---
In Sports, Fort Atkinson high School Football coach Brady Grayvold is leaving his position after two years at the helm. 
Grayvold, who went 0-18 during his time in Fort has accepted a position on the coaching staff at the University of St. Thomas in St. Paul, Minnesota. 
"I think everyone's ultimate goal is to do it at the highest level," Grayvold said. "I said I wanted to build this up as high as I could. There were no other high schools that I would have wanted to be at. When a college like the one that reached out reaches out — it's an opportunity that I don't think you can turn down."
For more on his departure, and what's next for the Blackhawks, read here: 
---
Nation, State & World
1. 
2. 
3. 
---
Photo of the Day: Luther Elementary Geography Bee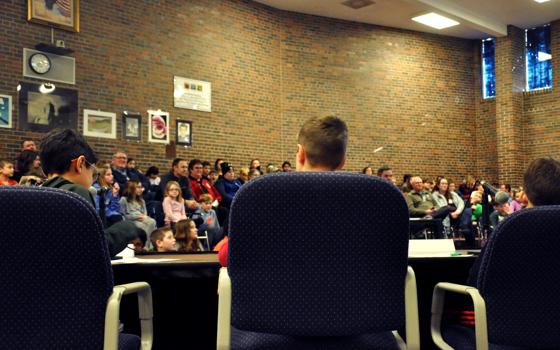 Three competitors face the audience in the Luther Geography Bee. Eventual champion Anthony Torres is on the left, with Miles Ficenec and Gram Chaney to his right. 
By Henry Redman hredman@dailyunion.com